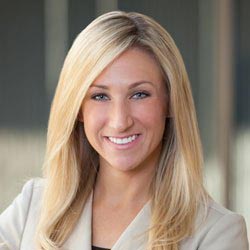 Lindsay's practice is exclusively dedicated to defending the rights of those accused of committing a wide variety of felony and misdemeanor offenses. Lindsay graduated from Pepperdine University in 2004, and received her law degree from the University of Colorado in 2009. During her time in law school, Lindsay was awarded the Bryan Shaha Academic Scholarship and the Clinical Education "Student of the Year" Award for her work in the Criminal Defense Clinic.
Before joining Foster, Graham, Milstein & Calisher, LLP, Lindsay represented hundreds of individuals while working in the Denver branch of the nationally-recognized Colorado State Public Defender's Office. During that time, Lindsay conducted numerous jury trials on behalf of clients charged with crimes such as DUI, sexual assault, felony assault and burglary, to name a few. Many of these trials resulted in favorable outcomes for her clients.
Recently, Lindsay successfully defended an individual facing a life sentence under the habitual criminal laws in a trial for several felonies, including drug distribution and assault. In 2011, Lindsay received the Lowrey Kelley Memorial Boot Camp Award for her work on an aggravated robbery case that resulted in dismissal of all charges. Her time with the Public Defender exposed her to the often enormous and unfettered power of the government in criminal proceedings. This experience ignited her devotion to advocate on behalf of those who may otherwise falter in the face of this overwhelming adversary. Lindsay is an effective and skilled trial attorney who believes that every person accused of a crime deserves a zealous defense.