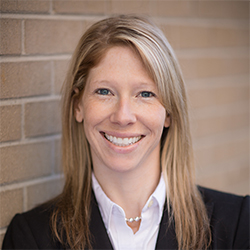 Mrs. Dulin joined FGMC in 2015. Mrs. Dulin graduated from law school in May, 2003 from Drake University Law School and achieved a master of laws degree in health law in May, 2005 from St. Louis University Law School. Within the practice of law, Mrs. Dulin has been driven by an unrelenting passion to help those people who have been harmed through no fault of their own.
Mrs. Dulin has honed her skills through trying multiple jury trials and has brought hundreds of cases to resolution through settlement. In July, 2014, Mrs. Dulin attended the one-month Trial Lawyers College in Dubois, Wyoming and Mrs. Dulin remains committed to advocating for her clients in the courtroom.
Mrs. Dulin has developed a civil litigation practice, with a focus in plaintiff's personal injury. Mrs. Dulin has represented those who have been injured as a result of a motor vehicle collision, a dangerous premises, medical malpractice or any instance where an injury occurred because someone broke the law. Mrs. Dulin believes that every client has a story to tell and there is no better place to tell that story than the courtroom.